Anya Malkov
MODERATE • TWO YEARS
SEVENTEEN • RAVENCLAW STUDENT • PUREBLOOD
Basics
FULL NAME:
Anya Malkov
ALIAS:
None to speak of
BIRTHDAY:
September 28th
YEAR:
7th Year
HOUSE:
Ravenclaw
SEXUALITY:
Heterosexual
LOYALTIES:
The only family she has left and her close friends
Ancient Runes <9>
Art <5>
Astronomy <7>
Care of Magical Creatures <8>
Charms <7>
Defense Against the Dark Arts <8>
Divination <5>
Drama <2>
Flying <9>
Healing <7>
Herbology <4>
Muggle Cooking <7>
Music <6>
Mythology <8>
Potions <10>
Transfiguration <9>
Physical Description
PLAY BY: Janet Montgomery
HAIR: Long and wavy, dark brown
EYE COLOR: Dark Brown
HEIGHT: 5'9"
BUILD: Slender
DISTINGUISHING FEATURES: Her tongue piercing if you happen to catch a glimpse
STYLE: Very casual, prefers wearing skinny jeans and off the shoulder tops now that it's warm enough where she won't freeze
Personality
Anya has always been a rather shy girl and only just started breaking out of her shell last year when she first arrived at Hogwarts. She still blushes at the drop of the hat, but she's gotten better at responding back without stuttering or talking too fast for other's to understand.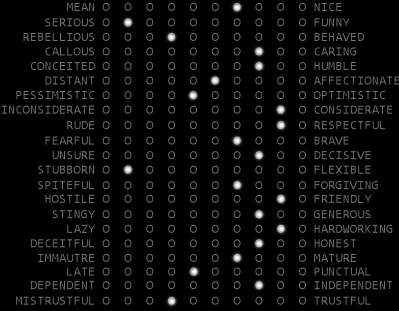 Extras
QUIRKS: has a tendency to play with her tongue piercing absently when she's bored or trying to think of what to do next, when someone touches her she will stiffen up for a brief moment
LIKES: boys, reading for pleasure, puzzles, creating spells, music
DISLIKES: astronomy, toads, spinach
STRENGTHS: witty, mazes, transfiguration
WEAKNESSES: quick-temper, lack of inner eye, social skills

PATRONUS: Her seventh birthday since it was one of the last times she got to see her parents happy and laughing
BOGGART: Her brother dead before her while she is unable to do anything to save him
DEMENTOR: Her seventh Christmas, it was when she was told of her parent's death
VERITASERUM: That she really has no idea what she is doing now that everyone she has been close to always seems to leave
MIRROR OF ERISED: That she fully breaks out of her shell and stops living under her brother

FAMILY:
• MOTHER: Malina Malkov
• FATHER: Victor Malkov
• BROTHER: Vladimir (older)
PETS: None to speak of
WAND: Vine Wood, 12 3/4 inches, Phoenix Tail
History
On Christmas Eve night her parents were found dead and no one could ever figure out who or why they were killed. An since there was no attack on her or her older brother it was written off as bad luck. Since then she and her older brother Vladimir lived together in their family home in Russia where she attended school. It wasn't until her upcoming sixth year that her brother decided to pack them off to England so he could handle some business that needed his particular attention. So she left everything she was familiar with and the one person she loved to follow the brother that had taken care of him since she was seven years old. Even though she dreaded England (and leaving a certain someone behind) she was excited to make a change and get the chance to be her own person.
Acceptance Letter Response
Anya lay absolutely still as she listened to some of her favorite songs on the wireless a few feet away from her. She was waiting for her brother to get back from the local pub he had taken to frequent since they moved in only a week ago. Her eyes started to close as a slow song came on, they always made her feel sleepy almost instantly.

Her fingers curled into the sheets as she tried to keep herself awake, but was too tired to change the song. She finally managed to grab her wand and quickly changed the station, sighing in relief as a faster pace song started to play from the speakers. She started to hum along as she wondered what school she would be attending the coming year. She really didn't know the school system here and cursed Victor for leaving it up to her. Some big brother he was being.

Just as she was ready to call it a night a soft tapping noise caught her attention. Her head turned to glance at her window and was surprised to find an owl there. There was no one she knew that would try to contact her. She reluctantly rolled out of bed and opened the window. "What are you doing here?" She asked the owl curiously, stroking it's ruffled feathers. The owl glanced up at her before poking out it's leg and she untied the letter quickly. Before she could say anything else the owl had taken off.

Anya rolled her eyes before closing the window with a sharp snap. She plopped back onto her head and rolled her piercing around in her mouth, curious about the addressing: Anya Malkov, 2nd floor bedroom. She ripped the seal and pulled out the parchment, eager to see what someone had sent her. Her eyes skimmed and the words accepted and Hogwarts stood out. Apparently she had been accepted to the Hogwarts School of Witchcraft and Wizardry. "Well... that takes care of that problem." She said softly to herself.